SP Engineering
UK manufacturers of quality motorcycle exhausts, available in choice of outlets, sizes, shapes and finishes.
We produce Carbon Fibre, Stainless Steel and Titanium exhausts, covering over 200 models. Please click here to find your model.
WE SHIP WORLDWIDE DAILY

Lifetime Warranty
NEW: Diabolus Round XLS - Carbon Fibre Outlet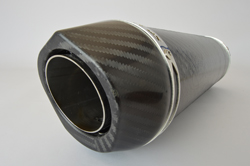 Available in Carbon Fibre, Satin Black, Polished/Brushed Stainless or Plain/Coloured Titanium in XLS (300mm) or XL (380mm) Sleeve Lengths.


Also suppliers of branded products: