FAQ
Why choose SP Engineering?
Here at SP, we take huge pride in our product and strive to produce the best exhausts that we can, at the best possible price.
We are based in Somerset, UK and have a workshop where our exhausts are put together with with great care and meticulous attention to detail. Our exhausts are all individually built by hand, using British engineered components.
Despite this, we price extremely competitively against other brands in the marketplace and are often competing against exhausts made with overseas (and therefore, much cheaper) components. We believe the motto "Buy Cheap, Buy Twice" is unfortunately accurate, which is why we offer a lifetime guarantee*, and an excellent after sales customer service in the event of any issue you may have after purchase.
We simply want excellent quality cans on a range of bikes that will stand the test of time and for people to be impressed with products that bear our name.
We use 304 grade stainless steel and high quality sleeves for each exhaust we put together, as well as stainless gasless rivets for a stronger build. Our research, development and suppliers (from laser cutters to tube benders) are also all sourced from within the UK, as we believe in contributing to our economy as far as we possibly can.
You really will notice a huge difference for a little extra cost when comparing SP Engineering to other brands, in both build quality and styling!
Yes, but please follow our current advice here before making the journey.
Do I pay VAT as I'm not from the UK?
Only UK customers pay VAT, as of Jan 2021 when Great Britain left the EU. If you are from outside GB then we do not charge VAT. When you select your Country in the web-cart, the amount will be adjusted accordingly.
Customers outside of the UK may need to pay a non refundable, non negotiable import charge (calculated by import customs in your country) - Please see our Terms and Conditions for more details.
What does your exhaust package include?
All our exhausts include a Hanging Strap with Rubber, Exhaust Clamps & a removable Baffle - which is everything you will need to fit! (Some bikes will require the OEM original gasket, which is not supplied but can be purchased direct from the manufacturer if the original cannot be removd and reused).
Link Pipes are also supplied with all model specific exhausts options.
Bolt On exhausts will have stainless bolts included for fitting.
What are the measurements of our exhausts?
We have a range of different sizes available (Length x Diameter);
Stubby: 250mm x 86mm XLS: 300mm x 98mm XL: 380mm x 98mm
We have inlets that are 45mm, 50.9mm, 54mm, 60mm or 63mm. All cans that are sold with link pipes are 50.9mm.
Any size except 50.9mm are made to order and are subject to a reduced refund amount should they have to be returned to us. Please see our T&Cs for information regarding this.
Can the exhaust be used on the road?
All our exhausts are supplied with removable baffles which reduce noise by approximately 10db. Most with the baffle fitted will conform to British Standards and can be used on the road.
Our 300mm & 380mm exhausts are BSAU marked for UK standards. We do not have an E-Mark for use in Europe.
Without the baffle fitted these cans produce a nice, deep, very throaty gp sound - They will not disappoint! With the baffle fitted the decibel level is bought down to an acceptable road & track day level (Please note Track Days are getting stricter & stricter, we've even heard stories that bikes with the original factory exhaust have be turned away, please check with the Track). The baffle takes around 10-15 decibels off.
The DB level will vary with different bikes, modern bikes with a catalyst converter are far quieter than bikes without.
The shorter the exhaust the louder the exhaust will be, so if you're looking for a loud can, the shorter/est will be the one for you.
How long will it take to receive my item?
Our products are usually dispatched same day if ordered before 1pm, with next working day delivery (within the UK). Occasionally an exhaust may need to be made to order but we would aim for a 2-3 day max turnaround
Our smaller packages e.g. Tail Tidies, Radiator Covers & Accessories are sent by courier or Royal Mail (depending on size and weight) therefore should be with you within 1-2 days after we have notified you of dispatch.
Not all items are kept in stock therefore may take a few days for us to receive them before forwarding you yourself, but we will always advise if there is a delay for any reason.
For full details on delivery (including Worldwide) please see our delivery information tab found on each product listing.
How can I place an order?
All products are available to purchase from our website. We use Paypal as our payment merchant therefore our website is 100% secure.
You can also place an order over the phone on 01373 474740.
Yes, you are welcome to collect by appointment. We have a showroom, all the exhaust we manufacture are on display along with other many other products.
It's best to give us a call on 01373 474740 before visiting. Most exhausts are off the shelf but in some cases the exhaust may need to be made to order.
Not all our accessories are in stock, most can be delivered to us within 24hrs but please call to check.
Will my bike need remapping or rejetting?
Remapping is not required with most bikes. We have found there to be between a 4.5-8.5 bhp gain around the mid-range with fitment of our exhausts. Re-mapping would increase bhp even more, if you wish to do this but it is not essential.
We do however recommend a re-map for our 3 into 1 low slung conversion for the Triumph Speed Triple. This will cost around £25 or half an hours labour at a local Triumph dealer.
How easy is it to fit the exhaust?
It really is easy, simply unbolt original system and slip ours into place - it usually takes about 20 mins and instructions are included. We also offer technical support over the phone if needed but if you are not comfortable with fitting the exhaust please have this done by a local garage. We cannot accept liability for costs, accident or injury caused by fitment of our exhausts and accessories
Can I make direct payments?
If you are struggling to complete a payment - and have already spoken to us to disccuss this - payments can be sent to us directly using the QR code below. Simply scan the code, enter the amount you wish to pay and complete your details.
Please ensure you have contacted our Sales team before sending a direct / QR payment, so that we are aware what you are making payment for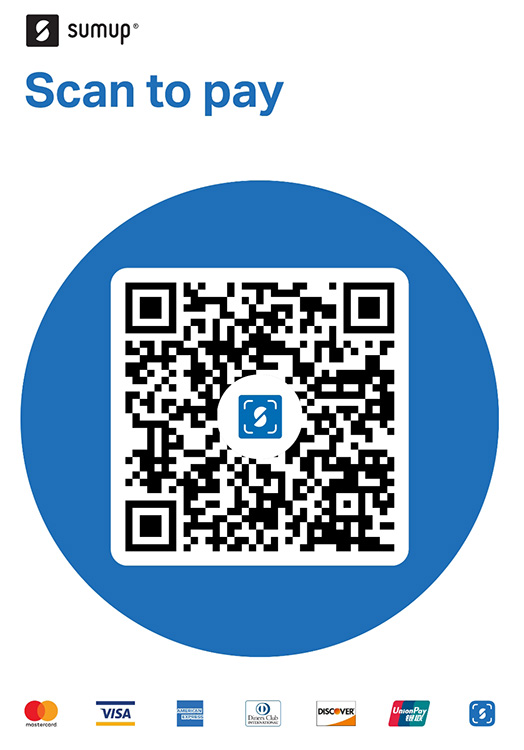 * Lifetime warranty on stainless parts