Terms & Conditions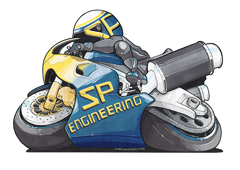 SP Engineering Motorcycle Exhaust & Accessories Ltd
R13 Enterprise Zone, Marshall Way, Commerce Park, Frome, Somerset BA11 2FE
These terms of sale apply to all goods supplied by the above detailed supplier.
---
We try our hardest to keep stock availability on our website as accurate as possible.
Due to the number of Accessories we offer, we are not always able to do this as we rely on information from our suppliers. For this reason, some items may show as positive Availabilty, when it may not be.
The Pandemic has affected a huge amount of businesses in many ways, from Production delays due to staffing, further delays due to Demand and communication issues of information with fewer Staff being available. Our Suppliers are not always available to give us accurate real time stock data which in turn can throw our Website stock levels out.
We appreciate your patience in this difficult time with any items which may not be immediately available.
If you require a part urgently, please contact us before ordering to check on Stock Levels and Availability.
We will always advise if an order is going to be delayed for any reason, and will endeavour to update on an estimated delivery date - but please be aware that this is subject to receiving information from other companies.
---
No contract exists between you and the Supplier for the sale of any goods until the Supplier has received and accepted your order.
An acceptance of your offer to buy the goods will be sent shortly after your order. However, we do have the right to terminate the contract in the event that the goods are unavailable, mis-priced or cleared funds are not received.
The contract is subject to your right of cancellation (see below).
The Supplier may change these terms of sale without notice to you in relation to future sales.
Description and price of the goods
The description and price of the goods you order will be as shown on the Supplier's website at the time you place your order.
The goods are subject to availability. If on receipt of your order the goods you have ordered are not available in stock, we will contact you to advise of estimated availability date, or offer the chance of cancellation. If contact cannot be made or a response is not given, the contract will be terminated and any monies paid will be refunded back via the original payment method
Every effort is made to ensure that prices shown on the Supplier's website are accurate at the time you place your order. If an error is found within 14 days of accepting your order, the Supplier will inform you as soon as possible and offer you the option of reconfirming your order at the correct price, or cancelling your order. If the Supplier does not receive an order confirmation within 14 days of informing you of the error, the order will be cancelled automatically. If you cancel the order, or if the order is cancelled automatically due to the expiry of the 14 day period, the Supplier will refund or re-credit you for any sum that has been paid by you or debited from your credit card for the goods.
In addition to the price, you may be required to pay a delivery charge for the goods.
Payment
Payment for the goods and delivery charges can be made by any method shown on the Supplier's website at the time you place your order. Payment shall be due before the delivery date and time for payment shall be a fundamental term of this agreement, breach of which shall entitle the Supplier to terminate the contract immediately.
ii. There will be no delivery until cleared funds are received.
iii. Payments shall be made by you without any deduction whatsoever unless you have a valid court order requiring an amount equal to such deduction to be paid by the Supplier to you.

Delivery
The goods you order will be delivered to the address you give when you place your order, and a signature will be required.
If delivery cannot be made to your address for reasons under the Supplier's control the Supplier will inform you as soon as possible.
If you deliberately fail to take delivery of the goods (otherwise than by reason of circumstances under control of the Supplier) then without prejudice to any other right or remedy available to the Supplier , the Supplier may: a. store the goods until actual delivery and charge you for reasonable costs (including insurance) of storage; or b. sell the goods at the best readily obtainable price and (after deducting all reasonable storage and selling expenses) account to you for any excess over the price you agreed to pay for the goods or charge you for any shortfall below the price you agreed to pay for the goods.
If you fail to take delivery because you have cancelled your contract under the Distance Selling Regulations the Supplier shall refund or re-credit you within 30 days for any sum that has been paid by you or debited from your credit card for the goods. On exercising your right to cancel you shall be required to return the goods to the Supplier. Should you fail to return the goods, the Supplier reserves the right to deduct any direct costs incurred by the Supplier in retrieving the goods as a result of such failure.
Every effort will be made to deliver the goods as soon as possible after your order has been accepted. However, the Supplier will not be liable for any loss or damage suffered by you through reasonable or unavoidable delay in delivery. In this case, the Supplier will inform you as soon as possible.
Upon receipt of your order you will be asked to sign for the goods received in good condition. If the package does not appear to be in good condition then please refuse the delivery. If you are unable to check the contents of your delivery at the point of delivery then please sign for the parcel as "UNCHECKED". Failure to do so may affect any warranty claims that you make thereafter.
PLEASE NOTE: The courier will attempt delivery, and a signature is required on delivery. If attempts at delivery are failed resulting in a returned parcel then the cost of outward delivery, the return charge and any other charges will be deductible from the refund due.
Overseas Customers from outside of the United Kingdom

may be liable to customs and/or duty import charges, for which the Supplier takes no responsibility

​
As of 2021, the UK is no longer part of the EU

and extra charges may be applicable. Payment of any such charges must be made directly and as advised by the relevant delivery company
Refusal by the Customer to pay these charges which results in a return of the goods will result in a deduction in refund of the initial carriage charge (as detailed on the order), and the return cost charged to the Supplier by the relevant delivery company, as well as any directly related additional fees which will be proved by the Supplier. In the case of custom/ special orders which have their own returns policy, a further refund deduction may also then be applicable.
Due to high volumes of missing shipments in recent weeks, we must advise you when placing an order, you are responsible for providing a suitable delivery address where goods can be accepted and signed for. If you are not home, then Royal Mail or one of our couriers leave goods in a safe place, we cannot be held responsible if they are not there on your return.
We do not have the resources to investigate each and every delivery, we ship 50-100 parcels a day, so please use the tracking information provided via email when we notify you of dispatch to keep an eye on your delivery schedule.
Your right of cancellation
You have the right to cancel the contract at any time up to 14 working days after the day on which you receive the goods (see below). Please note that this policy has some limitations and does not apply to business customers.
To exercise your right of cancellation, you must give written notice to the supplier by hand, post or e-mail, giving details of the goods ordered and (where appropriate) their delivery. Notification by phone is not sufficient. If you prefer to exercise this right by email, please email sales@spengineering.co.uk ensuring you quote your name and address and any order reference number.
In the case of faulty or mis-described goods we shall, after receiving your notification, deal with the matter in accordance with your legal rights
Once you have notified the Supplier that you are cancelling the contract, the Supplier will refund or re-credit you within 30 days for any sum that has been paid by you or debited from your credit card for the goods.
Except in the case of faulty or mis-described goods, if you do not return the goods as required, the Supplier may charge you a sum not exceeding the direct costs of recovering the goods.
We may not be able to cancel special orders, where non stocked items are supplied. This will depend on manufacturer, if we are able to cancel then will be accepted. With some parts made to order they are non refundable. Some custom made parts will incur a 30% handling fee.
Warranty
Exhausts supplied by the Supplier are 'lifetime' warranted - Please see below. This warranty is extended to the purchaser of the exhaust only and is not valid for new owners of the vehicle/ exhaust. This warranty does not affect your statutory rights as a consumer.
Lifetime warranty is extended to Stainless Steel parts only. Carbon Fibre sleeves and Powder Coated Black sleeves are applicable for 12 months warranty.
Proof of purchase will be required.
All other goods have the warranty offered by the Supplier/ Brand of said product
This warranty does not apply to any defect in the goods arising from fair wear and tear, willful damage, accident, negligence by you or any third party, use otherwise than as recommended by the Supplier, failure to follow the Supplier's instructions, or any modification/ alteration or repair carried out without the Supplier's approval.
If the goods supplied to you are damaged on delivery, you should notify the Supplier in writing via e-mail within 7 working days. (Please note that this is 48hrs for our business customers)
If the goods supplied to you develop a defect while under warranty or you have any other complaint about the goods, you should notify the Supplier in writing via e-mail, as soon as possible, but in any event within 14 days of the date you discovered or ought to have discovered the damage, defect or complaint.
Defective items will need to be returned to SP Engineering for inspection, to determine the reason for failure and to decide if a repair or replacement will be necessary. No refund or exchange will be given without physical inspection of the item with a claim of failure.
The company will refund the cost of return postage up to the value of £10 (inc VAT). when reason for the return is because of an error by SP Engineering. We recommend www.interparcel.com who will be able to provide a courier service for within this value. The return must be authorised before returning to the Company.
A copy of invoice/ receipt from your chosen courier- sent by either post or email – will be required for refund to be considered. Your refund will be made via whichever payment method was used for the original purchase. No responsibility will be taken by the company for goods sent untracked.
If you wish to return the goods for inspection, repair or cancellation for a reason not at the fault of SP Engineering then you will be responsible for returning the goods to the Supplier at your own cost. A delivery charge will be charged for sending said item back to a delivery address of your choice.
Limitation of Liability
Subject to (ii) below, if you are a consumer the Supplier shall not be liable to you for any loss or damage in circumstances where:
a. there is no breach of a legal duty owed to you by the Supplier or by its employees or agents;
b. such loss or damage is not a reasonably foreseeable result of any such breach;
c. any increase in loss or damage resulting from breach by you of any term of this contract.
ii. Nothing in these conditions excludes or limits the liability of the Supplier for death or personal injury caused by the Supplier's negligence or fraudulent misrepresentation.
iii. If you are a business customer the Supplier shall not be liable to you for any indirect or consequential loss or damage (whether for loss of profit, loss of business, depletion of goodwill or otherwise), costs, expenses or other claims for consequential compensation whatsoever (howsoever caused) which arise out of or in connection with this agreement.
Data Protection
The Supplier will take all reasonable precautions to keep the details of your order and payment secure but unless the Supplier is negligent, the Supplier will not be liable for unauthorised access to information supplied by you.
Images
Product images are for illustrative purposes only and may differ from the actual product.